"During times of universal conformity, differing from others become a revolutionary act."
Patternopolis needs YOU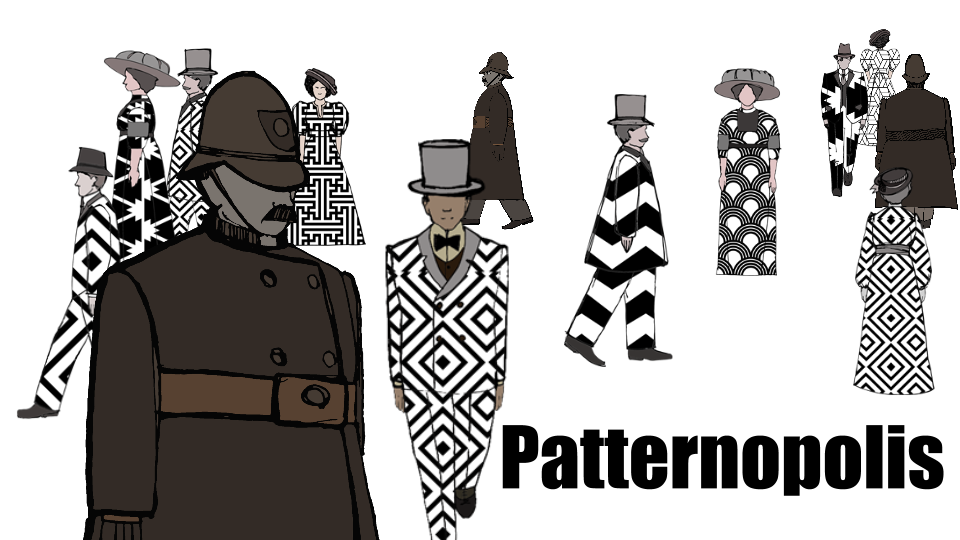 Patternopolis is terrorised by Ministry of Well-being which forces everybody to think, speak and look the same. Be the hero bringing change by destroying the propaganda symbols and hide among the crowds from spies and policemen that are chasing you!
Gamedev info
At the beginning we wanted to develop a game with story resembling 1984 by George Orwell, but set in alternative history resembling Victorian Era. Soon after we simplify a bit our game mechanics due to limited time that we have for finishing the prototype. We have kept our stealth and run core and the story about Citizen A who rose against the system and the Minister of Well-being is still there. Because we know he will be a legend among the uprising movement one day...
Who are we
WitchCat is not a common gamedev studio. We are a bunch of university outlaws, gang of rebel programmers, screenwriters and artists. We have special abilities. Yes. Martin is an Aikido master, Michal is an untrackable lonely ranger, Kaťa is promising costume designer, Adolfo is a flamengo legend from Malaga and Dave is an old-school woodstock rocker.
We just fit wit each other.
Gamedev progress
30. 9. 2016
Third build of the game is available for download.
14. 1. 2016
Second build of the game is available for download.
8. 1. 2016
First build of the game is available for download (the file is unfortunately no longer available, but you can download the second build).
30. 11. - 4. 12. 2015
Finding out that we are way behind our schedule, game manager preparations. Meeting our mentors.
23. 11. - 27. 11. 2015
Improving the city mechanics. Looking for sounds and music. David tries to quit smoking (without success).
16. - 20. 11. 2015
Setting up city waypoints and basic game mechanics including controls. Nobody draws tougher policemen than Kaťa.
9. - 13. 11. 2015
Looking for suitable city-model, setting up list of what-to-be-done, first sketches and programming.
October/November 2015
Choosing Unity as a game engine. Setting up basic time-schedule. Adolfo´s Flamengo Guitar seems broken after WitchCat pre-pre-prerelease party.